Today we share our conversation with Katie from
HeartfeltYarnWreaths
, a true prairie girl who loves coffee and stationary, and makes the most wonderful wreaths and felt flower brooches I have ever seen! Read about why she likes wreaths, what social media had to do with her opening an online shop, a bit about her personal tastes, the work she does within the justice system and a very special surprise for all of you!
When and why did you start making yarn wreaths?
It feels like I've been making yarn wreaths my whole life, but in truth, my very first yarn wreath was made in November 2010. At that time, I had just graduated with my Masters Degree in Occupational Therapy. Upon graduating, I found myself with so much more free time - more than I knew what to do with! In looking through blogs (read: wasting time on the internet), I came across the concept of a yarn wreath. I loved all of the textures and the clean lines of this modern decor idea. I began shopping on Etsy (read: wasting more time on the internet), and finally elected to make a yarn wreath myself.
I set off to Michael's, 40% coupon in hand, picked up some teal yarn and some felt, along with a $5 glue gun. A few hours later, with half charred fingertips from the glue gun burns, I had self-taught myself how to make yarn wreaths.
Fairly pleased with myself (and still wasting time on the internet), I posted a photo of my creation to Facebook. I thought nothing more of it, until I started getting lots of requests for me to make yarn wreaths for others! After a few months of selling locally, I opened up Heartfelt Yarn Wreaths on Etsy.
Why do I make yarn wreaths?
It's a wonderful, therapeutic outlet. Wrapping the yarn round and around and around appeals to my perfectionist nature, and I absolutely love dreaming up colour combinations and bringing them to life with felt. I have met so many wonderful people through this little adventure, and love having an outlet for my creativity.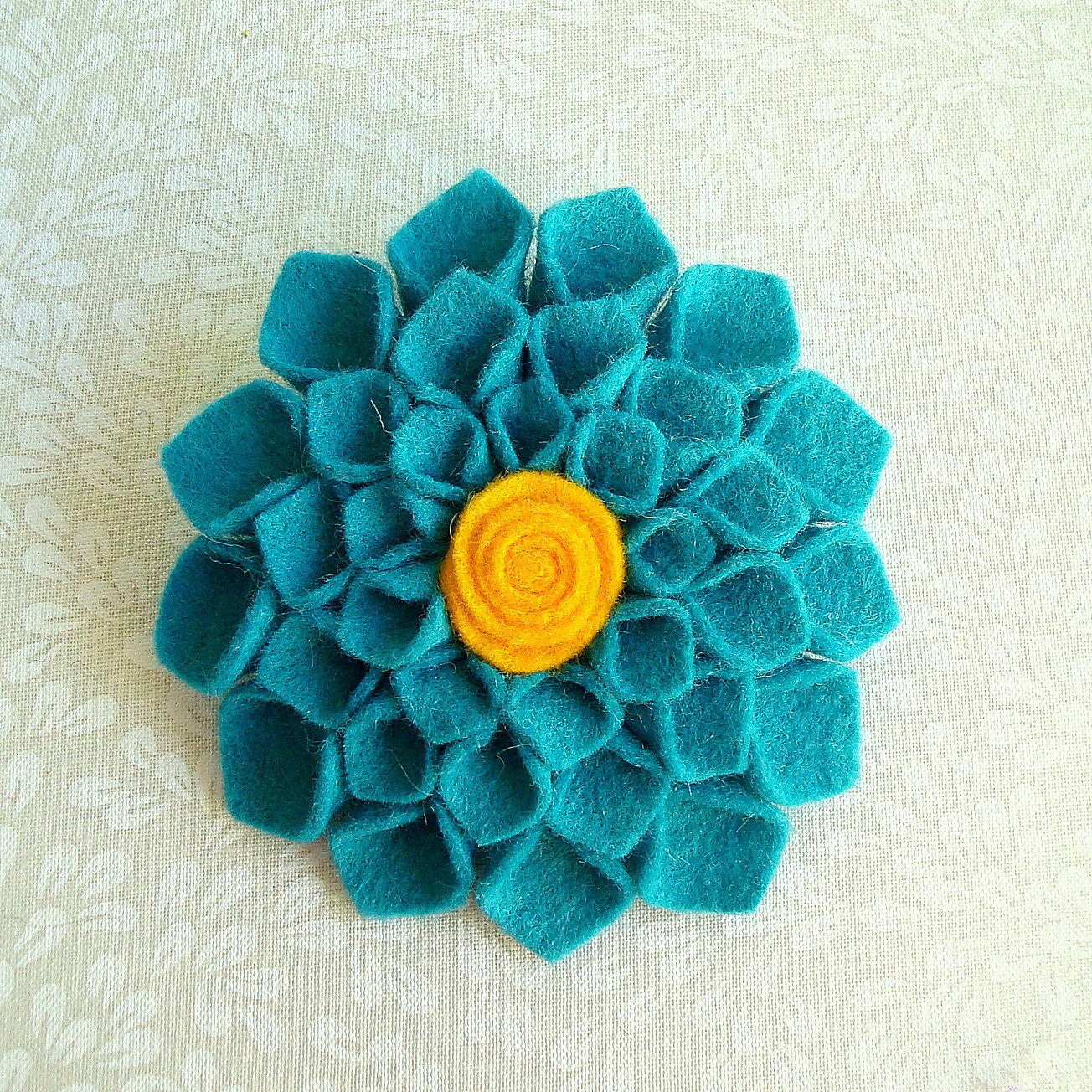 What inspired you to make your modern felt flower brooches?
More of the same! I saw the idea and decided to try it. I already had the felt and the glue gun (and burned fingertips), after all. I also loved the idea of a modern, textured brooch. I also really enjoy the process of cutting out all of the little tiny petals, and watching them come together to create something bold and beautiful!
Your yarn wreaths and brooches are so colourful and unique, what inspires your designs?
Thank you! I love colour. I find inspiration for colour everywhere! More commonly, however, it find I am rather impulsive as I wander down the yarn aisle and come across a beautiful colour. Then, I go home, lay out all of my felt colours (my supplier has 80 different colours to choose from) and play around with all of the tones until I have found a combination that I love! It's a pretty organic, unsophisticated process for me.
I have also really enjoyed blending modern designs with traditional colour palates for popular holidays including Christmas and Valentines Day.
I also recently discovered
Design Seeds
and love seeking inspiration through the beautiful photographs and colours.
What is your favourite item in your shop and why?
Hmm. Good question! I tend to have different favourites depending on the season. Right now, my favourite is this soft, romantic
Valentines Day yarn wreath
. A hint of Valentine's day without being too Hallmark-y. :)
I would love to expand my product lines! Yarn wreaths will always be my true love, and those will always be a staple in my creative processes. I have more ideas than I have time to make.
I also completed my first winter craft show circuit in November/December 2011 and look forward to exploring the craft show scene further in the coming years.
I like crafting because it's a way to express another part of yourself. I think sometimes we can become so busy with other aspects of our lives that we lose out on the pieces that are sometimes just beneath the surface. For me, dedicating time out to play with my yarn and felt is very important. As a career, I have chosen to follow my passion and work within the justice system with male offenders who have mental illnesses. It's important for me to take time for myself at the end of the day, too!
Some of the crafts that I make aside from my wreaths and brooches include my love of refinishing furniture. I have my garage (well, my husband's garage), filled with half-finished pieces of furniture. I have, however, finished recovering all of the chairs from my vintage dining room set. I absolutely love them! I also love graphic design - designing invitations, posters, etc. I could see myself getting more into card making, too!
I choose handmade for oh-so-many reasons. I love buying handmade gifts for others because it is so much more fun to find an absolutely unique and perfect gift for someone. I also love working with other artists, and love to marvel at the talents of others. Plus, I buy most of my handmade stuff from Etsy, and then get to come home to presents in my mailbox. Fun!
I am currently reading Bossy Pants by Tina Fey. I just love her.
I am currently listening to Coldplay's latest album, Mylo Xyloto. It's also snowing outside, which usually leads to me listening to Sigur Ros.
I combat creative blocks by browsing Etsy, Pinterest, and the internet at large. Inspiration is never far away. Or, I take my little pup Lewis for a brisk walk. He's great at keeping me on my toes, of course!
A message with Katie:
Thank you so much for interviewing me! I love meeting new people, so please do not be afraid to ask me questions. Also, I absolutely LOVE custom orders. It has been one of my favourite aspects of
my Etsy shop
. And, for all my favourite readers, until the end of January take 15% your entire purchase from
my shop
using the coupon code "ILOVEWEST". Thank you so much!