As another Tuesday roles around, let's find out a little bit about
Susana Milmann
Where are you from?
I live in Winnipeg. I was born and raised in Buenos Aires, Argentina. We (myself, husband, two boys, cute but super-hyper dog) moved to Winnipeg eight years ago.
What is your Etsy shop name?
Says the Stone
When did you start your Etsy shop?
I started my shop in January, 2011
Why did you decide to start an Etsy shop?
I wanted to expand my activity opening an online shop, and I found Etsy to be an exciting platform to showcase my designs.
What do you sell?
I design and make unique mixed media jewelry. I use reclaimed and vintage components:
My signature polymer clay roses, which I like to combine in asymmetrical statement pieces. These have been very successful on vintage style weddings; A huge trend right now:
I also hand make wire-work nest necklaces, using freshwater peals, my own polymer beads, brass, copper and sterling silver: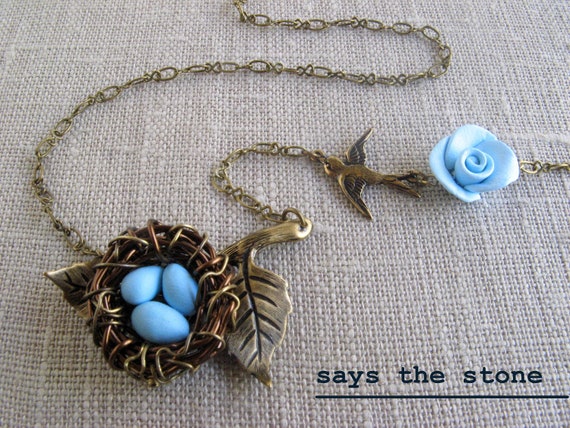 What is your favorite item to make?
My favorite item is the one I am about to create. An empty beading pad is like an empty canvas for me. I love the excitement of the unknown.
I love making those big upcycled statement pieces, where I can use my imagination to the fullest to combine vintage quality jewelry parts in an unexpected yet stylish way. Besides, it allows me to go hunt for interesting and high quality pre-loved treasures; Pretty intense fun!
Recently I added my Bunny Locket necklaces. They have been very well received by younger clients, especially after being feature in April, 2013 on
Martha Stewart's Bride's Guide
blog! She dubbed them "Will you be my flower girl?" lockets.
I also enjoy working together with my clients on their custom orders.
What are your long-term Etsy goals?
I want to reach out to a broader audience, expand my shop, and keep the high level of customer satisfaction I get today.
Make sure you follow Susana's creative journey here: