Happy Thursday everyone!! Today we're going to hear from another new WESTie,
Darlyn Simpson
Where are you from?
I was originally born in Paraguay, South America, but moved here as a toddler. I have lived in the city most of my adult life and recently moved to beautiful Headingley, where I think I will stay for a long, long time!
What is your Etsy shop name?
Ashley Gabby Designs
When did you start your Etsy shop?
I started my Etsy shop in April, 2013
Why did you decide to open a shop on Etsy?
I've always been creative and driven by business. When I was 18, I was even able to sell some of my items to The Bay Downtown. However, my hobby never received my full attention, since I was young and easily distracted.
Almost 2 years ago, I left the corporate world as a Director and Operations Manager to better care for my daughter with special needs. I started
a blog about her life
, her daily struggles and triumphs of living with multiple life-threatening illnesses, and the amazing presence she has in our lives. This 'therapy' blog got me thinking about business again and I decided to awaken my almost dormant creativity.
I wanted to start a business from home that would allow me to indulge in my creative/business side while still giving my daughter the care she needed. I also knew that this business should be dedicated to her and other children living with life-threatening illnesses. I started making children's play tents, keeping in mind how much children need their own place to create, dream, and otherwise just be children. I am in the process of working with Make-A-Wish Canada to donate 5% of my play tent proceeds to their wonderful organization in order to help children's dreams come true and further raise awareness.
What do you sell?
My best sellers are my canvas tents, but I also sell bunting, pillow covers and personalized hand-stamped jewellery.
What is your favorite item to make?
I really enjoy making tents! Especially when I know the tent is for the little boy's or girl's birthday. I love to send an extra little doll or pillow as a special gift in their packages.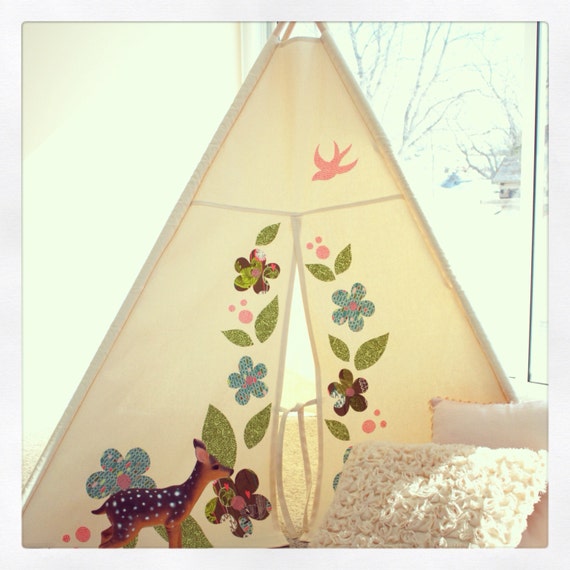 What are your long-term Etsy goals?
I am excited to get my products noticed and am hap[y to share with you that in the next few weeks, a photography and prop studio in New York will be featuring my tents and rag tie bunting in her work and on her website and blog. My long-term Etsy goal would be to specialize in and have a line of children's coordinating bedroom decor and photography props. Tents, bunting, pillows, bedding and accessories.
If you want to follow along Darlyn's exciting journey, do so here:
Stephanie's Presence
,
Facebook