Who's new this Tuesday? It's
Mags Holm
!
Where are you from?
I have spent the last 27 of my 29 years in Winnipeg, and lived in Edmonton before that (although I don't remember).
What is your Etsy shop called?
Mags Holm

When did you start you Etsy shop?
I started the shop in May of this year after having my first "showing" of my art - I had a table at a street fair at a retail furniture store that was having a big celebration. I received lots of fabulous comments and compliments and although I did not sell a painting I did sell some of the crafts I brought along.
What made you decide to start a shop on Etsy?
I decided to start the shop to hopefully start being able to fund my creative hobbies.
What do you sell?
I sell original multimedia artwork and crafts; I use a variety of materials including acrylic paint, various texture media, cardstock and scrapbook paper, yarn, canvas, wood, porcelain tile, chain and ribbon.
What is your favorite item to make?
I primarily like to make large paintings that are heavily textured and sometimes three dimensional. I have also recently started working with porcelain tile-both as coasters and making different forms of multimedia wall art.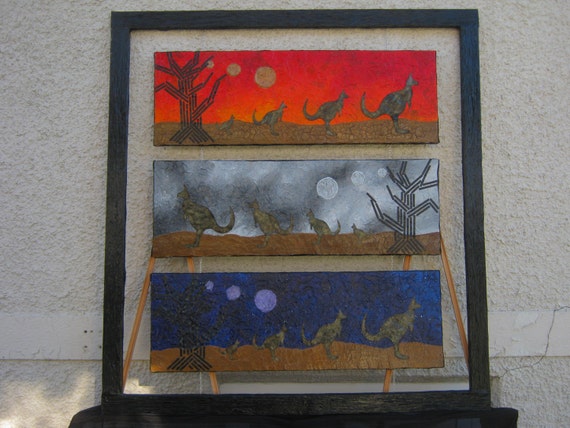 What are your long-term goals?
While I don't wish to make my income solely from my artwork, it would be great if I could find some vacations and luxuries and of course keep learning and trying new techniques and ideas. I also would like to become more involved in the "Westie" universe-I'd like to participate in the sales and gatherings and learn as much as I can from my fellow Winnipeg Artists. I am struggling currently to find a balance between work and art and life, but hopefully soon I'll be able to figure it all out.